At Veolia Austria, each and every one of us has the power to influence our daily work life. This also involves the way we interact with each other and with our customers, the decisions we make and the behaviour we adopt.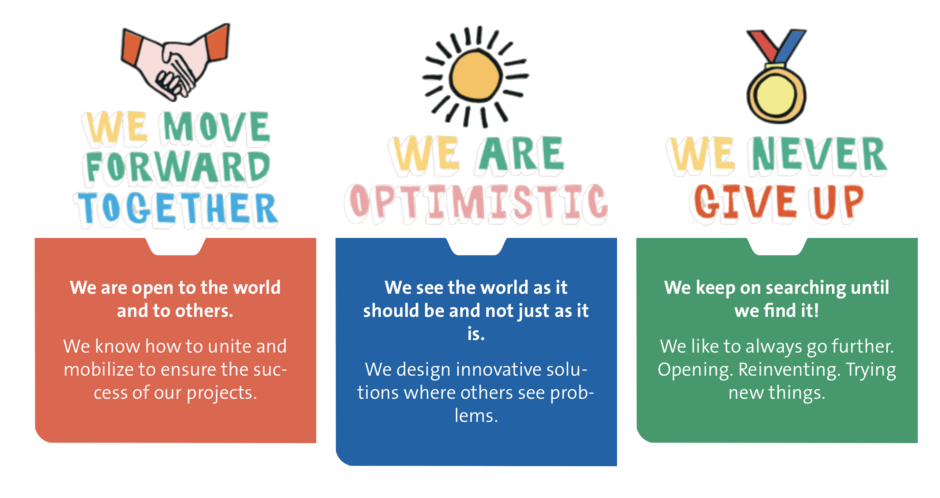 Five values shape our behaviour. They describe how we behave, that we take responsibility, drive innovation and work in a customer-oriented manner.
​Responsibility
You are committed to the company and concerned about its image, you continuously develop your skills and pay attention to health and safety conditions in the workplace.
Solidarity
You are helpful to your colleagues and you stand up for your team. They can rely on you.
​Respect
You accept diversity and cultivate a respectful interaction with each other. Politeness, tolerance, fairness and recognition play an important role.
Innovation
You make suggestions for improvement and bring in your own ideas. These can be suggestions for a new product or a more efficient approach. Especially through digitalization - in connection with globalization - evolutionary changes are the order of the day.
Customer focus
You listen carefully to internal and external customers and strive to meet technical, economic, environmental and social expectations by providing appropriate and innovative solutions.
Emmanuelle Danichert-Zanters
Site Head Veolia Industries Austria GmbH, Head of Business Development Austria

 As a part of a worldwide Group of companies, with over 163 000 employees worldwide it makes me proud to working for Veolia Industries Austria. Our main statement "We are Ressourcers" is my main focus also for our daily business: To help our clients to be flexible and cost effcient by using the ressources in the right way.

Operation Head - Kundl - BU Infra

Our daily challenge is to help our clients ensuring business continuity via a secure and quality supply of utilities. We do this by working over the process life cycle to continuously improve waste, water and energy management and in particular identify and recover additional resources.

Head Energy and Utility Supply

Resourcing the word in an efficient, sustainable and energy saving way within a motivating team – that's what matters, that's what I can identify with 100%, that's Veolia.
Find out more about working at Veolia Industries Austria